This web site has been created by the Trustees of Rivington Chapel
From here you can:
Find out about chapel events

Access the newsletters on-line

Make donations to the chapel via our CAFDonate web page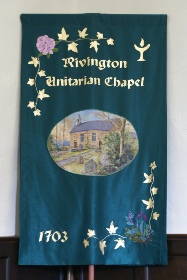 For full details of the chapel, service times, rites of passage and contact details please see:
As with all places of worship, the Chapel is currently closed until 2nd December.
There will be Zoom services on Sunday 15th November and Sunday 29th November. All being well, the next service in the Chapel will be on Sunday 6th December. The joining details for Zoom can be found in news sheet number 12 - see link above.
The service on Sunday 15th November will now be taken by Rev Lynn Readett
If the government rules or guidance change, then we will update this page accordingly.
With the COVID restrictions, our attendances are likely to be lower than normal. This will still have an impact on income received from collections, so you can still make a donation by clicking here or on the button below.

The Chapel Trustees are still looking for a new Treasurer. If you think you may be interested in helping the chapel out in this important role, please send an email to trustadvert@rivingtonchapel.org.uk to ask for more details of what is involved.