This web site has been created by the Trustees of Rivington Chapel
From here you can:
Find out about chapel events

Access the newsletters on-line

Make donations to the chapel via our CAFDonate web page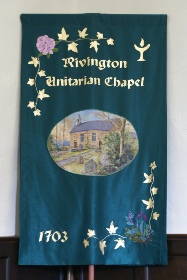 For full details of the chapel, service times, rites of passage and contact details please see:

The Chapel Trustees are still looking for a new Treasurer. If you think you may be interested in helping the chapel out in this important role, please send an email to trustadvert@rivingtonchapel.org.uk to ask for more details of what is involved.
Due to COVID-19 restrictions, normal chapel life is currently on hold.
From 24 June 2020, the chapel will be open for private prayer and contemplation on Wednesday evenings between 7pm and 8pm.
We are currently considering Government guidance on opening places of worship for services. When a decision has been made about what to do at Rivington, we'll post it here.
However, we will continue to produce regular news sheets during the crisis which will be posted on the Newsletter Page of this website and on Facebook.
If you would like one sent directly to you, please email: newsletter@rivingtonchapel.org.uk
At the moment the intention is produce a news sheet twice a month to coincide with the dates when services would have been held.
As we will not be receiving income from collections whilst the chapel is closed, please consider making a donation by clicking here or on the button below.
Sunday Zoom Services
If you wish to join us in our Sunday services which will be held using Zoom, the joining instructions can be found here