This web site has been created by the Trustees of Rivington Chapel
From here you can:
Find out about chapel events

Access the newsletters on-line

Make donations to the chapel via our CAFDonate web page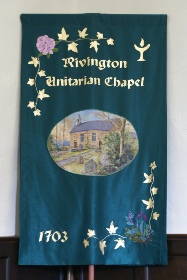 We are pleased to announce that Chapel is now open for services on the usual 1st and 3rd Sundays at 2:15pm.
We have given considerable thought on how to make the Chapel COVID-19 secure taking into account all the relevant Government guidance on opening places of worship. We have had to produce a risk assessment and there is also a simplified guide on what to expect. These have now been revised in light of Lancashire being put in Tier 3 restrictions. The updated assessments can be found here.
Things will be a little bit different to normal, but hopefully the changes that we have had to make will not detract from the beauty and simplicity of the services that we hold in Rivington Chapel.
We are looking into the possibility of Zooming the services for those who are not able, or do not wish to attend services in person.
With the COVID restrictions, our attendances are likely to be lower than normal. This will still have an impact on income received from collections, so you can still make a donation by clicking here or on the button below.
For full details of the chapel, service times, rites of passage and contact details please see:

The Chapel Trustees are still looking for a new Treasurer. If you think you may be interested in helping the chapel out in this important role, please send an email to trustadvert@rivingtonchapel.org.uk to ask for more details of what is involved.